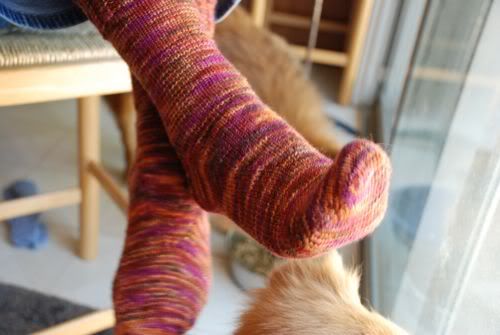 Listen here:
This week's episode has been sponsored by:
Introducing Abstract Fiber Alto: 100% SuperWash Blue Faced Leicester in a 3-ply DK weight yarn. Shiny, very soft, just the right amount of twist. You should see how this yarn takes color! There is something magical about the way the colors smudge together and create new shades in between. Add the sheen, and it's almost too pretty to sell. Perfect for sweaters, scarves, wrist warmers, just about anything. 4.5 ounces of Alto is nearly 400 yards and only $20. We think you'll love Alto as much as we do. Find Alto online at AbstractFiber.com.

Join us in welcoming Sandi Rosner, Friday (July 2, 2010 7:00 - 8:00pm) one of the great minds behind Think Outside the Sox, as she shares the inspiration for the contest, the selection process of the winning socks, and more! Sandi will be available to sign books after the talk.
Think Outside the SOX
, the latest from
XRX Books
, features over 60 winning designs from the Knitter's Magazine contest. This ultimate sock book highlights many design processes, innovative constructions and updates on traditional techniques and just plain beautiful socks. Extensive charts and diagrams, illustrated explanations, and detailed photographs all round out this how-to for everything socks. There's no better time to be a sock knitter! You can find us on the web at
http://KnittingUniverse.com/SOX/
or call 800-232-5648.
On the needles
(00:36)
Gigi is excited about knitting with beads! Jasmin has finished knitting her
Knitmore Girls Citron
! Jasmin is planning her next Citron, maybe out of some stashed
Ceallach Dyes
laceweight merino
(colorway "night lace gradiations"). Jasmin is working S-L-O-W-L-Y on her
Brandywine Shawl
for
the KAL
. Gigi is working on a pair of Houdini socks from
Personal Footprints for Insoucient Sock Knitters
(out of Abstract Fiber Supersock in "Be Mine"). We'll be doing a
7 Small Shawls
KAL, starting soon.
Gigi has some success with her
Frost Flowers Stole
. Jasmin gets out of heel flap purgatory on her Supernatural socks. Gigi talks about doing a
beaded bindoff
(we mistakenly thank Maniago, really, we meant
DebbieScally
). We talk about WWKIP day at Santana Row. Jasmin mentions Maido, and Japanese
WASHI paper masking tape
.
Events:
(19:21)
- 6/18-20:
Black Sheep Gathering
. Eugene, OR. Meet and greet TBA (on our Ravelry board, and our Twitter, @knitmoregirls)
- 7/3 : Start of the Tour de Fleece! We'll be doing a mass-start starting at 8:30 AM PST in the Team Sasquatch group chat.
- 9/6: Monterey Wool Auction
Contest:
(24:27)
The Head to Toe design contest is launched. Details can be found in the contest thread. The contest ends 8/31/2010. Prizes include:
When knitting attacks!
(27:27)
Jasmin declares the bind-off for the Citron to be the Longest. Bindoff. EVER. Jasmin mentions the
MimKnits technique for applying beads
. Gigi's
Cozy Cables socks
turn out a bit small.
We play the
Knaked Knits
promo!
Review:
(33:03)
This week, we review the
Knitting Essentials 2 DVD
by Lucy Neatby. We LOVE it! We mention the
DVD subscription service
.
Tour de Fleece Training:
(45:46)
Handcyclists:
Week 4:
Hunt for errata.
Traditional Cyclists:
Week 4:
Check the condition of your tools (bobbins, driveband, oil, timer).
Straw into Gold:
(49:10)
Jasmin mentions spinning Targhee. She is plying the Bubblegum singles and is getting "clown noses" everywhere.