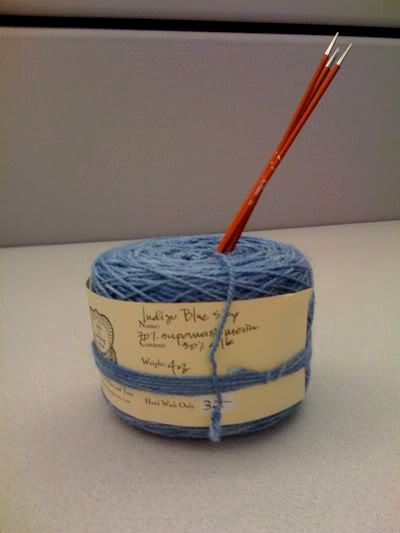 Listen here:
This week's episode has been sponsored by:



This week:

Did you know Abstract Fiber has a Ravelry group? Aaabsolutely Abstract is the place to go to meet our staff and see what other Ravelers are doing with their Abstract Fiber. We'd love to meet you online and see pictures of your projects. Aaabsolutely Abstract is also a great place to ask questions, find out where we'll be next, and keep up with what's new. If you're looking for Abstract Fiber at a yarn shop near you, AbstractFiber.com also lists all the stores carrying our products. Online shoppers at AbstractFiber.com receive free shipping for orders over $100 in the US and Canada.






This week:

Things are crazy here at Purlescence Yarns. Zauberball Crazy, that is. We're pleased to announce the arrival of Zitron's latest sock yarn. The wool/nylon blend comes in a 100g, 420 meter ball. Check out Zauberball and our other Zitron sock yarns, on our shelves now!




On the Needles:

(00:44)

Gigi has an Almost - UFO, her Swallowtail Shawl! Jasmin is making steady progress on her Ariann (knit out of the Dream in Color Classy, in their "Butter Peeps" colorway ). Gigi continues to work on the Frog Tree Origami Wrap Pullover. Jasmin has finished her first Albatross sock (made of her handspun from Crown Mountain Fibers).

Gigi is working on the second Par Five sock, out of the Lorna's Laces "Franklin's Panopticon" colorway. Jasmin's Tangled Yoke Cardigan is waiting for the ribbon to be sewn on the buttonband. Jasmin finished her Tempting II top! Gigi is working on a vanilla sock out of Regia with a channel island cast-on.

Jasmin, Gigi, and Miss Kalendar (host of Brass Needles) went to the Spindles & Flyers Stash sale. Jasmin picked up a little table loom for $20!



Events:

(13:30)

- Rhinebeck! (NY Sheep & Wool) October 17-18. Meetup will be at the Carolina Homespun booth on Saturday afternoon. Time TBD.



Mother Knows Best:

(15:17)

Topic- Labeling your knits. Use grograin ribbon and a fabric pen for personalized labels- or use scrapbooking ribbon! We also talk about holiday knits, and can't remember which podcast had the great idea of making a list, but thinks it was either KIPing it Real or Here's to Ewe. Jasmin offers up her sock label template. (Send us an email at knitmoregirls@yahoo.com , and we'll send it to you!)



When Knitting Attacks:

(21:44)

Jasmin joins her sleeves together. Gigi aspires to knit the Curved Lace Shawl, but is foiled by a tiny chart. Jasmin's Tempting II is a little more revealing than she would have liked. Jasmin's Whisper is ill-fated from the start.



Review:

(31:22)

This week, we review the Signature Needle Arts needles. We suggest them as a "gift for the knitter who has everything".



Straw into Gold:

(41:24)

Jasmin spins the Three Bags Full (in Crimson Shadows) for Gigi mindfully. Jasmin has been on a spinning finishing kick. Jasmin is repurposing business cards.