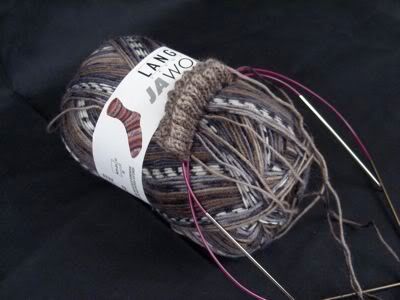 Listen here:
This week's episode has been sponsored by:




This week:

The Flip Loom, newly arrived from Schacht Spindle Company. It's a well-designed rigid heddle loom, perfect for the beginning weaver. Also received: mini Loom Kits, a small square loom great for teaching kids to weave. Check out their selection of weaving books to get you on the road to weaving beautiful fabrics.

Events:
(00:26)
-
Sock Summit
: August 6-9
-
Monterey Wool Auction
, [Click on "Sunday] (August 16th, 12:30 PM)
-
Pacific International Quilt Festival
. October 15-18, 2009
On the Needles:
(5:20)
Gigi is working on her red acrylic dishcloth blanket (now, marshmallow-free!). She dissolved the marshmallow with room temperature tap water.
[Jasmin is sending out requests for your favorite acrylic yarns. Please send the names of your favorite acrylics to us at knitmoregirlsATyahooDOTcom.]
Jasmin is still working on her
Adamas Shawl
(knit from the Valley Yarns,
Colrain Lace
. Color:
Grape Jelly
). Jasmin encourages you to use stitch markers when you're knitting lace, if you need to, if you want to, etc. Jasmin is a big fan of the
stitch markers from Knitpicks
(especially
the brass ones
for lace).
Jasmin sings the praises of Regia Sock yarn. Jasmin talks about Andrew's Favorite Colorway
4739
. She also talks about
her first handknit sock hole
.
Jasmin got to join
Síle
from
Knit-One-One
,
Jacey Boggs
(of the
Insubordiknit podcast
and the
Sit and Spin DVD
),
Maia
from
Tactile
, and
WonderMike
(from
YKnit
).
Jasmin tells an Amazing Customer Service story.
Mother Knows Best:
(31:31)
We discuss ease. You can find the
HOAX fashion formula here
.
Reviews:
(41:20)
Interweave Knits-
Collection CDs
. (Jasmin mentions the
Koolhaas hat
by Jared Flood.)
Lucy Neatby's Knitting Essentials
, Disc 1. (By the way,
here's the list of techniques for this DVD
.) [One of the cool things you can do is convert the DVD to be played on your iPod using
Handbrake
.]
Straw into Gold:
(1:00:00)
Tour de Fleece
update: Jasmin has snapped her driveband. As a break from her TdF stuff, Jasmin is spinning some Tussah Silk from
A Verb for Keeping Warm
. (Color:
Vermillion II
) GO
TEAM SPINMORE
!!!
Gigi has joined the
Tour de Finish
.