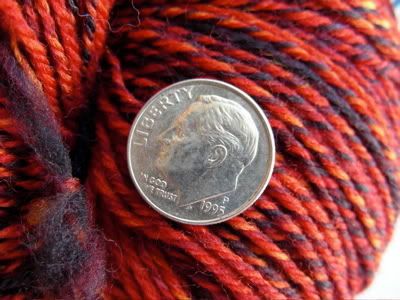 Listen here:

OTN:
Gigi is working on
Double basket socks
- Sock #2. She has finished the "
Right side wrong side cable
" socks. She's running out of UFOs! Gigi is swatching for her Knitting Olympics Project. This week, she has swatched the
Freestone Firecracker handspun
(pictured above) and the Creatively Dyed Ocean.
Jasmin has finished the first
Butter Peeps sock
(and is working on the second), and is plugging away at a
handspun sock
. She's knitting on a sock out of Creatively Dyed Ocean, Magic Loop style. Jasmin has been keeping to the
Social Pressure Experiment
.
Both Jasmin and Gigi will be reviewing
Shibui sock yarn
- on a future episode.
Review:
All's Well That Ends Well
-
Shakespeare Santa Cruz
.
Jasmin isn't sure if the story or the production she didn't like. Listen for details.
Mother Knows Best:
Olympic Health
-Do all your planning now. Avoid heartache.
Avoiding Olympic injury! Set a timer- every 15 minutes, get up and stretch. Do a Sun Salutation. Catch a bathroom break, drink water.
If your hands start to hurt, stop knitting right away, and go ice them.
Eat frequently and healthily. We're Olympians!
When Knitting Attacks:
Evidently, not being able to count is genetic. Who'd have thought?
Events:
Sunday, August 17th-
Monterey Wool Auction
Friday, August 22nd-
Burn This
- Shakespeare Santa Cruz.