You probably attend an event at least once a year. Whether you stay pretty close to home or travel across the country, come rain or shine we love to connect with you!
Sometimes events are all about shopping, but more often than not, events are a combination of shopping and education. When attending a show that combines classes and market place, shopping literally becomes dashes between classes. Time is short so my dash plan includes the necessary pit stop and (keeping my fingers crossed for short lines) visits to my favorite or new vendor spot.
As a vendor, we do our best to bring the right amount of scents and products. We are thrilled when we have the product or scent you are looking for, but sometimes the unexpected happens, like there is a sudden run on "fill in your favorite scent or product here" and the person in front of you just bought the last one. Being left wanting after waiting just sucks!
It's awesome when a product or scent become wildly popular but we are crushed when we have to serve disappointment because there is no more.
Wait and want no more because we've created the Easy Peasy Product Reservation. It's so simple, even a two year old German Shepard can do it! (OK. Maybe not.)
Step One: Go to our web site: www.Bar-Maids.com
Step Two: Click on the, "Events," tab
Step Three: A pop up asking if you would like to reserve product may appear, or click on "Easy Peasy Reservation Reserve in Advance or Take a Chance"
Step Four: You are taken to an awesome world of, "Survey Monkey" and all you have to do is make your reservation. Done.
We'll even text you a reminder during the event!
Sincerely,
Lo-Lo
Erin.Lane Bags presents the 2016 Indie Yarn Carnival. If you've ever missed the opportunity to see your favorite indie yarn dyers at a show, then this is the club for you. Erin.Lane has assembled a cavalcade of the most popular and sought after indie yarns from all over the country, and they are bringing it all to your door throughout 2016.

Featuring the indie dyed yarns of Buffalo Wool Company, Lydia Yarns, Knit Circus, Must Stash, Miss Babs and Miss Crosby, the Indie Yarn Carnival is a must have collection of special kits that you won't find anywhere else. And each kit comes with a custom matched Erin.Lane Project Bag.

Sign up is quick and easy, and the 12 month subscription payment for the club makes it painless to enroll. Visit erinlanebags.com before December 1 to sign up and get your ticket to the finest indie yarn show you'll see all year!
Purlescence Yarns is Silicon Valley's destination fiber arts shop. Our yarns are selected for both their beauty and sustainability. Choose the perfect yarn and our Custom Fit service to help you make the perfect sweater.
Create your own perfect yarns and fabrics with our extensive selection of spinning and weaving equipment, classes, and full service maintenance.
We're always happy to provide mail order service for Knitmore Girls listeners. Call us today, it'll be on its way!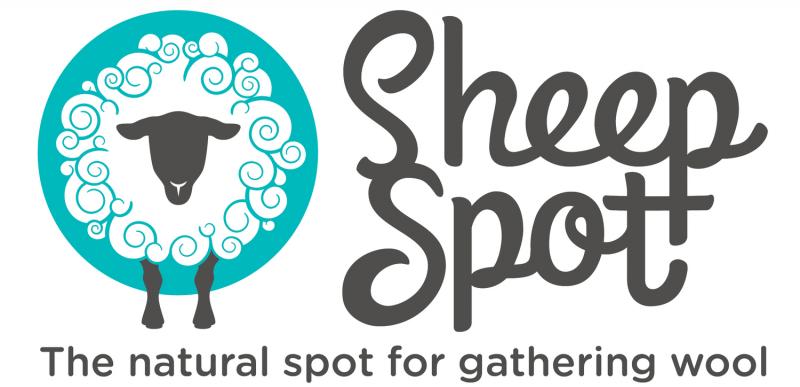 Sheepspot is a different kind of yarn and fiber company. Every breed-specific yarn and fiber we sell comes from ethically-raised sheep, and most of our yarns and fibers are sustainably grown and processed in right here in North America.
Check us out at sheepspot.com to learn more, and don't forget to sign up for the newsletter and get a free six-part e-course on choosing and using breed-specific yarns. Sheepspot: for those craving sustainable stash from happy sheep!
This weeks episode is sponsored by
Erin Lane Bags, The Bar Maids, Purlescence Yarns and Sheepspot.
On The Needles:(0:34)
Jasmin finished the ruffle on the
Elsa sweater
out of yarn by Lisa Souza. Everything is written in excrutiating detail on her project page.
Gigi is working on the
Braidsmaid
by Martina Behm, out of
Abstract Fiber
in Lima in the Hibiscus colorway.
Jasmin will occasionally talk about knitting with babies, it will not be its own segment.
She is currently on her
Bifrost scarf by Infinite Twist
. and mentioned
#expertenablers
Jasmin mentions the Weaving Join (Clasped Weft Join) She raves about the
Boppy
Gigi made some Bilingual Preemie hats, a knitted body with a crochet flower. Jasmin mentions books by
Nicky Epstein
. Gigi mentions the
Knit Girllls
podcast.
One of our friends had success with a sewn buttonhole from the
Vogue Knitting
Book.
Events:(23:37)
Gigi had a lot of fun at Pacific International Quilt Fest. This year, the many portraits were noticiable.
She mentions
fusible, gridded interfacing
for a postage stamp quilt.
The next event we will be attending is going to be Stitches West 2016.
In Stitches:(29:35)
Gigi wore her gray
Citron
and a pair of sparkly socks. She will be wearing shawls when she is sitting in bed.
Genevieve has been wearing her original
Playful Stripes
cardigan,
Rex's blue Playful Stripes,
little Oak cardigan,
the
Duck Sweater
and the hat from the cover of
Knit Hats!
Rex tried his Pumpkin hat on and he wore his
Little Baby Sweater
, and the
Wee Envelope Pullover
. Jasmin thinks she maybe should also finish her
Calligraphy sweater.
Contest:(34:36)
New prize, generously donated by
Fab Funky Fibres:
The Big One Gradient.
Parameters for participating in the #operationsockdrawer contest:
Participants: post a picture to the ravelry forum, or to instagram with the #operationsockdrawer, have your ravelry name on your instagram profile. Feel free to double dip your projects.
Projects will be judged on originality and general delightfulness.
We mention
Susan B. Anderson's podcast
--------------------------------------------------------------------------------------------------------
New contest: #GrinchBomb
Mastering The Knits, a podcast hosted by Alicia, and Natalie of the former
Bark'n Knit
podcast are hosting a #ElvesWorkshopAlong. We are hosting another Grinch-Along this year.
Post your holiday gift knitting to instagram with both the #elvesworkshopalong AND the #grinchbomb hashtag (and add a grinch somewhere in the photo, if you can, like this:
The four prizes for the #grinchbomb contest are (so far) three Grinch project bags (sewn by us, never for sale) paired with some lovely
Coloring Book Yarn
, and
a Bifrost kit
(from Infinite Twist) with a bigger project bag.
--------------------------------------------------------------------------------------------------------
Mother Knows Best:(39:43)
This week we answer a question from the "What do you want to hear about?" thread in the forum
about labeling handspun. Jasmin uses
Tyvek wristbands
. We also use a yarn counter. Jasmin mentions
Gusler Designs
for tags.
When Knitting Attacks:(44:02)
The Elsa sweater may not fit.
Gigi attacked her Braidsmaid shawl an frogged a whole repeat. unnecessarily. Also, she bought a pattern at PIQF and does not like the instructions. She will try and find a pattern she likes more.
Review:(47:07)
This week we review
New Lace Knitting
, by Romi Hill
We also mention Designs by Romi
And Sew On:(55:20)
Gigi is thrilled about the mending she did on Sam's Shirt. She finished hand sewing the lining of Genevieve's summer dress.