Listen here:
This weeks episode is sponsored by:
If you were one of the lucky 100 people to score a House Special Knitmore Girls Subscription Box from Bar-Maids - heads up! For a limited time, you can download a free digital copy of the Fractual Danger pattern designed by Martina Behm that was included in the box. Contact Bar-Maids to request your digital download and they will provide you with a custom code and link for a direct download. The code is good only until December 31, 2015 and only one code will be provided to each subscriber. Write Bar-Maids at: lo-lo@bar-maids.com or call them at 360.573.6033. PS. There are a few Awesomeness Boxes available. If you haven't snagged one, do so before they are gone!
Erin Lane took the plunge and has left Etsy. If you are looking for your favorite organizational goodies, you need to stop by the ALL NEW Erin.Lane Bags.com. The new site is loaded with great features. You can "invest in Hank's Bank" to earn rewards towards great discount codes, you can refer friends to help spread the word, and you can find out where to find Erin.Lane next (Stitches Midwest August 6-9). Basically, all the amazing things you want, all in one place! Come on down and meet Hank; he's dying to help you get organized.
Purlescence Yarns is the Bay Area's destination yarn shop. From the best in spinning and weaving equipment to luxurious yarns and fibers, we have what you need to make your fibery dreams a reality. We're always happy to provide mail order service for Knitmore Girls listeners. Call us today, it'll be on its way!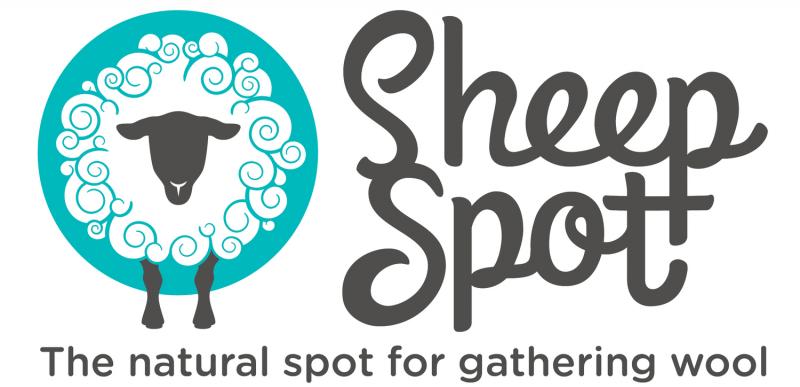 Sheepspot is a different kind of yarn and fiber company. Every breed-specific yarn and fiber we sell comes from ethically-raised sheep, and most of our yarns and fibers are sustainably grown and processed in right here in North America.
Check us out at sheepspot.com to learn more, and don't forget to sign up for the newsletter and get a free six-part e-course on choosing and using breed-specific yarns. Sheepspot: for those craving sustainable stash from happy sheep!
On The Needles:(0:31)
One minute health update.
Jasmin has made excellent progress on
a Playful Stripes for Beanzilla.
Gigi is working on the
Fractal Danger
shawlette.
Jasmin is working on her
Viajante
#Behmalong, #beadsandlace2015. She mentions the Around Your Neck KAL (#aynKAL) from the
Suburban Stitcher.
She is musing about mindful knitting. Gigi's progress on her Viajante seems infinitesimal.
Gigi is adding stitches on a preemie hat. She also is knitting more socks out of the Regia 6ply that she had left over from last weeks socks.
Jasmin is very pleased with the customer service at
Unicorn Fiber
. Genevieve's
Playful Stripes cardigan
cardigan has been (somewhat) salvaged.
Events:(16:21)
- May 22 to August 14:
Stash Dash (invented by the Knit Girllls)
- July 4-26: Tour de Fleece
- July 21 to Sept 21: Summer of Lace and Beads
- October 15-18:
Pacific International Quilt Fest
Contest:(20:28)
This weeks prize is a skein of
Berry Colorful Yarnings
, in the colorway "Sweet".
And the winner is: Fanojoel!
Parameters for participating in the #operationsockdrawer contest:
Participants: post a picture to the ravelry forum, or to instagram with the #operationsockdrawer, have your ravelry name on your instagram profile. Feel free to double dip your projects.
Projects will be judged on originality and general delightfulness.
Mother Knows Best:(2:11)
This week we answer a question from the "What do you want to hear about?" thread in the forum
about adding beads.
Thanks for finding the
Oak Park
socks pattern out of the
Anntarsia
book.
Kristen from Yarngasm has an
excellent beaded knitting tutorial
.
When Knitting Attacks:(27:42)
Jasmin managed to knit the smaller sized sleeve length on the sweater she just finished for Genevieve. She mentions the
Houdini
technique. She is testing/reviewing he
Knitter's Pride Karbonz
needles.
Review:(38:09)
This week we review
Knitted Wraps and Cover-ups
, by Annie Modesitt.
Straw Into Gold:(48:41)
Gigi needs to switch out whorls to make her spinning wheel go faster. Also, she got Rumpelstilzkined, when her spinning attacked her. The singles had slipped the confines of the bobbin.
Jasmin didn't set up her Woolly Winder properly and managed to confound herself. Her goal per day is 75g per day.
And Sew On:(53:41)
Jasmin went to the fabric store WITHOUT mom. Mom suggested that
Kwik Sew patterns
are generally written for knit fabrics.