Listen here:
This weeks episode is sponsored by:
If you were one of the lucky 100 people to score a House Special Knitmore Girls Subscription Box from Bar-Maids - heads up! For a limited time, you can download a free digital copy of the Fractual Danger pattern designed by Martina Behm that was included in the box. Contact Bar-Maids to request your digital download and they will provide you with a custom code and link for a direct download. The code is good only until December 31, 2015 and only one code will be provided to each subscriber. Write Bar-Maids at: lo-lo@bar-maids.com or call them at 360.573.6033. PS. There are a few Awesomeness Boxes available. If you haven't snagged one, do so before they are gone!
Erin Lane took the plunge and has left Etsy. If you are looking for your favorite organizational goodies, you need to stop by the ALL NEW Erin.Lane Bags.com. The new site is loaded with great features. You can "invest in Hank's Bank" to earn rewards towards great discount codes, you can refer friends to help spread the word, and you can find out where to find Erin.Lane next (Stitches Midwest August 6-9). Basically, all the amazing things you want, all in one place! Come on down and meet Hank; he's dying to help you get organized.
Purlescence Yarns is the Bay Area's destination yarn shop. From the best in spinning and weaving equipment to luxurious yarns and fibers, we have what you need to make your fibery dreams a reality. We're always happy to provide mail order service for Knitmore Girls listeners. Call us today, it'll be on its way!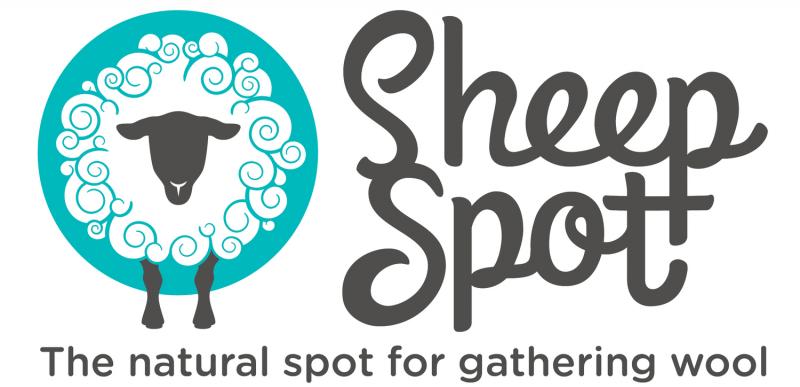 Sheepspot is a different kind of yarn and fiber company. Every breed-specific yarn and fiber we sell comes from ethically-raised sheep, and most of our yarns and fibers are sustainably grown and processed in right here in North America.
Check us out at sheepspot.com to learn more, and don't forget to sign up for the newsletter and get a free six-part e-course on choosing and using breed-specific yarns. Sheepspot: for those craving sustainable stash from happy sheep!
On The Needles:(0:34)
Jasmin finished
another Playful Stripes cardigan for Genevieve
and is very pleased with it. This brings up her Stash Dash total to 3057m. There is some heckling of NDJen04 of the
Commuter Knitter podcast.
Gigi has hit the black hole of knitting and exclaims that she has knit nothing. The rounds on her
Viajante
#Behmalong, #beadsandlace2015 are getting bigger and bigger and showing less and less progress.
Jasmin is working on
a Playful Stripes for Beanzilla.
Gigi has been enjoying working on the
Fractal Danger
shawlette.
Jasmin is knitting the
Little Baby Sweater
by
Purl Soho
, out of
Berry Colorful Yarnings
in the "Shades of Grey" colorway. She references the
Tomten
pattern out of Elizabeth Zimmerman's
The Opinionated Knitter
Events:(17:12)
- May 22 to August 14:
Stash Dash (invented by the Knit Girllls)
- July 4-26: Tour de Fleece
- July 21 to Sept 21: Summer of Lace and Beads
- October :
Pacific International Quilt Fest
Jasmin talks about her strategy with her
Hansen's Minispinner
.
Also, if you are unhappy with the Wool Auction in Monterey being scheduled on Labor Day weekend, let them know.
We will let you know via social media when we go on baby hiatus.
Contest:(24:55)
Parameters for participating in the #operationsockdrawer contest:
Participants: post a picture to the ravelry forum, or to instagram with the #operationsockdrawer, have your ravelry name on your instagram profile. Feel free to double dip your projects.
Projects will be judged on originality and general delightfulness.
The newest prize is the "Sweet" colorway in her Awesome Sock Selfstriping Wide from
Berry Colorful Yarnings
.
Mother Knows Best:(27:17)
This week we answer a question from the "What do you want to hear about?" thread in the forum about leaving your knitting in the car.
Jasmin loves her
Addi Turbo Needles
, because they have a lifetime warranty, and are very well made. Also the
ChiaoGoo Twist Red Lace Knitting Needle Set
are amazing.
Gigi also answers a question about knitting
Martina Behm patterns
in English.
When Knitting Attacks:(33:18)
Gigi was repeatedly attacked by her
Fractal Danger
. Jasmin's
Little Baby Sweater
got her.
Jasmin washed Genevieve's
Playful Stripes cardigan
with
Beyond Clean
and instead of getting glowing white, it turned yellow in the sun. Jasmin usually washes her woolens in
SOAK
, and the rest of her regular laundry in
Rocking Green detergent.
Review:(43:01)
This week we review
Colorwheel Knits,
by Veera Välimäki
Jasmin mentions our review of
Vivacious Kids,
and
Hannah Fettig
and
Alana Dakos patterns
Straw Into Gold:(56:56)
Gigi's drive band broke and she spend a whole day sewing a new one together, so she lost two days of spinning time. The nice people of
Schacht Spindle company
were very helpful.
Jasmin has spun 350g out of a total of 800g of her hogget corriedale fleece.
Join
Team Sasquatch group
if you haven't done so yet!