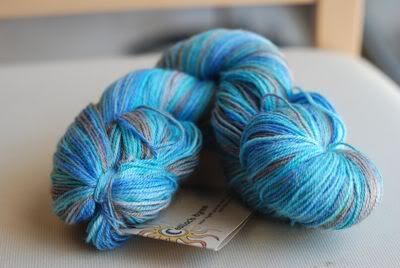 Listen here:
This week's episode has been sponsored by:





This week:

Abstract Fiber is pleased to announce Macho Socks! Now available on our website AbstractFiber.com , customers can order any color sock yarn they like in a 150g skein. 50% more yarn means Macho Socks provide enough yarn for most men's socks, and costs less than buying a whole extra skein. Sasquatch may still need two... We've also added an option to order triple skeins for those larger shawl or sweater projects. No knots mean fewer ends to work in and more continuous knitting pleasure. As always, free shipping on orders over $100 in the US and Canada at AbstractFiber.com






This week:

This week we've been inspired by Fair Isle at Purlescence Yarns. Nathania cast on her Vancouver 2010 Olympic sweater, designed by Dale of Norway. The fall books from Dale feature beautifully simple, classic Scandinavian designs for the whole family. Sandi cast on the Kindle scarf from Fiona Ellis' Inspired Fair Isle book in Frog Tree Alpaca Sport. Fair Isle's everywhere this fall. How will it inspire you?






This week:

Verenaknitting.com has had a makeover--come see our chic new look, take our navigation out for a spin or page through our gorgeous Summer issue. We hope you'll introduce yourself in our forums and find out more about what's going on at Verena by reading our blog, Knittitude. We still have those hard to find European yarns in our yarn shop and new, every day we offer a pattern from our collection for free download! As a special offer to celebrate our new site all new subscribers get a bonus issue, that's 5 issues for the price of 4. Plus subscribers get 10 bonus patterns per issue and access to exclusive features. Come see for yourself at www.verenaknitting.com.
Use subscription code: KNITMG

Events:
(00:34)
- Gigi will NOT be attending PIQF.
- We will be attending The
NYS Sheep and Wool Festival
(Rhinebeck) on Octover 17-18. We will be joined by
Meghan
, from the
Stitch-It! Podcast
.
On the Needles:
(6:39)
Gigi is working on a sock out of the
Ceallach Dyes
Superboo. We discuss the
52-pair plunge
and
Nakniswemodo
. Jasmin has been hit by inspiration freight train, and has been PLOWING through her
tangled yoke cardigan
. Jasmin has also cast on a "
Rick
" sock from
Sock Innovations
out of the
A Verb For Keeping Warm
70% Superwash Merino/30% silk
in "Indigo Blue Sky". Jasmin has cast on 48 sts on size 2 needles.
Jasmin finds inspiration on the Ravelry Radar. She is in love with
reanbean
's "
Drops yoke sweater
". Gigi is in love with the
Dayflower sweater
from
Knotions
. Jasmin and Gigi want to knit the
Sunrise Circle cardigan
- both out of Jasmin's handspun. (Jasmin's is
Crosspatch Creations
"Rhiannon's Fire", Gigi's is out of the
Three Bags Full
"Crimson Shadows". )
Our map got wiped! Would you be kind enough to
re-add yourself
?
Mother Knows Best:
(24:02)
We talk about finding time to knit. Jasmin recommends always have knitting in your bag, in the event of needing Tech Support, a horrific traffic backup, or the random surprise spare time. Gigi wants a
foot-driven mouse
so she can surf Ravelry and knit simultaneously.
Gigi spreads the gospel of having routines. Jasmin talks about her "do it now" principle.
Contest!
(37:14)
We're
doing a contest
, to find contests! Join in our Ravelry group thread and make your suggestions!
When Knitting Attacks:
(38:37)
Gigi does battle with her sewing machine and angles. Jasmin makes an increasing error on her Tangled Yoke Cardigan.
Review:
(43:26)
This week we review the Ceallach Dyes Superboo (65% Superwash Merino/ 35% Bamboo). We talk about our bias against bamboo. Jasmin compares it to the
Pagewood Farms Yukon
. We like the colors, we like the quality, we like the yardage. What we don't like is the bamboo. (If you like knitting with bamboo, you'll like this yarn.)